22 Long Haul Flight Ayurveda Tips for Easy Breezy Travel
These 20 long haul flight tips and tricks I share with my clients are proven to help you get a terrific start to your vacation.
I have been flying long haul from San Francisco to Singapore and India, almost twice every year for the last decade. Long-haul flights were no fun, I hated being locked up in an airplane mid-air for over 16 hours breathing stale canned air. Not anymore!
Ayurveda was key for making long haul flights and jet lag not only manageable but enjoyable as well.
In spite of all the comforts and amenities at airports, long haul flights that go over 3000 air miles is usually the 'eat-your-veggies' part of a delicious vacation we have been planning for months.
This is straight from my Ayurveda jetlag proof survive and thrive guide.
24 hours before the trip

Make half a gallon of Tulsi ( Holy Basil) tea, and drink it all up. Holy Basil is an adaptogen of immense benefit to the body's immunity and stress management abilities. Organic India is a good brand that sells excellent quality Tulsi tea.

Expert Tip: If you do not have Tulsi, you can make coriander, cumin, or fennel tea.

Give some self-love with an abhyanga massage

When you shower to get ready for the drive to the airport, factor in another 15 mins to apply a bit of food-grade sesame or almond oil all over the body. Every nook and cranny. Yes, even there! Leave it on for a few minutes to soak into the skin. Wipe off with a paper towel or cotton rag to save the plumbing and wash off with a warm shower. You just did an oil Abhyangam, congratulations!

Expert Tip: Warm the oil slightly and add some aromatherapy oils to create a spa-like experience.

Nasyam for your nose

The afternoon before your flight, warm some sesame oil, dip your pinky in it and stick it up your nose. Yes!! That was a Nasyam, or an oleation, of the nostrils. If you are feeling brave use a dropper and add 1 drop of oil to each nostril. You have just created a protective barrier between the cruel world and your sensitive nose lining.

Expert Tip: You can use an earbud for applying the oil if do not like to use your fingers.

Pack some hydration for your skin

To your airline amenity bag for the plane ride, add a vial of 30 ml of Almond or Jojoba oil, a saline nasal spray, and a small bottle of 100% Organic rose water spray. Frequently use on your face, neck, hands, and nostrils to stay moisturized.

Expert Tip: Remember packaging constraints before packing your makeup bag.

A multipurpose blankie

A light 100% wool scarf works both as a pretty accessory and an extra blanket during the flight. Also, use it as a yoga strap when you find a quiet spot to stretch. Works very well for hip openings, forward bending, and shoulder stretches.

Expert Tip: It's best to find a scarf that is of medium weight, heavy scarves can be difficult to manage and a light scarf may be too flimsy.
6. Say a little prayer for you
Almost all International airports have a prayer room, seek it out, and practice 'Ishvara Pranidhana' or surrender to the higher power. Spend a few minutes offering yourself and your experience to the Divine. When I am in total surrender, I often find myself cruising through Immigration, walking to the baggage claim, and reaching out for my bright ginger pink Samsonite as it makes its way to me on the carousel.
Expert Tip: Most large airports have a private room dedicated to prayer or meditation.
7. Prepare for baggage mishandling
Baggage rerouting is not unusual and happens ever so often. Smart travelers are always prepared. In your travel tote, carry two pairs of underwear, one set of outerwear, and a pair of ballet flats. Never be caught off guard by a truant baggage handler who sent your checked luggage to Timbuktu, unless that was your destination.
Expert Tip: Best to pack an easy to wear long dress than a piece of clothing that requires several pieces
8. Dazzle with your smile
It's air travel, everyone expects the other to be a little cross. Observe the sea of faces at the airport, pay special attention to the ones who serve us. The Divine has manifested itself in so many unique forms. Relish the show that is on display and smile. Smiling and addressing people by name earns me free food, extra critical information, courteous service, upgrades, and undisclosed discounts. Once an SFO policeman biked along with me all the way to my gate and made sure I got on my plane on time.
Expert Tip: Listen to pleasant music as you are moving around, this will keep you uplifted.
9. Save your information
The most nerve-wracking thing after one has cleared Immigration is the 'have they forgotten me?' feeling at the Arrival section. Your boutique travel agent, that is moi, would have WhatsApped you the pickup person's name, number, and picture 24 hours in advance before each segment. Take screenshots of all important information like hotel and bank contacts to access at will with a flourish, even if you don't have wi-fi or cell coverage.
Expert Tip: Printouts also work! Stop by a help desk in Asia, they are always a good place to get connected with your hotel or driver.
10. Foreign Exchange at Airports is always the worst
Your boutique travel agent aka me will send you a check-list of critical information a week before you fly, like email your travel alert and order local currency from your Bank at least 5 business days in advance. Banks have the best exchange rates however often do not stock foreign currency, this has to be ordered and shipped in for you.
Expert Tip: This tip is for US Banks, check with your local bank at least 15 days in advance.
11. Know how much FEE is charged on your CC
Confirm the foreign transaction fee percentage for your credit card, if you run out of cash and end up using your credit card. I love my BOA Travel Card for zero foreign transaction fees.
Expert Tip: If you are a frequent traveler, the sneaky credit card fees can add up pretty quickly. It helps to have a card that charges zero foreign fees.
12. Freeze your welcome home meal
I always freeze portions of my homemade spinach lentil soup, curry, and rice puddings before I leave. This way, the day I am back from my trip, all I need to do is throw in some rice in the cooker, and voila! I have tasty hot home-made food that makes me feel so good. When you go grocery shopping, pick up a couple of special nutritious frozen meals and a tasty dessert for your post-trip meals at home.
Expert Tip: Indian and Mexican food freezes well and reheats back with full-bodied flavor. Also, indulge in some takeout from your favorite place when you land.
13. Pack for extra shopping
If you are like me, there is always more to buy. Pack an empty lightweight waterproof Nylon duffel bag so you have extra luggage to hold your shopping. This will save you time shopping for luggage during your vacation.
Expert Tip: Check-in all baggage except your tote and carry-on.
14. Print out your itinerary for the day of arrival
Instead of relying on the hotel staff or employees where you are staying, unless they have a dedicated travel desk, bookmark top attractions and restaurants on TripAdvisor for the day you arrive. If you hire a boutique travel agent, she will have your days well-planned for maximum juice. She can do what TripAdvisor cannot, she can intelligently match your preferences and personality to the activities offered at your vacation destination. Not everyone enjoys a hot air ballon ride or an endless temple trek.
Expert Tip: Keep it all together close to your passport, ticket copies, boarding pass, and any declaration forms. It is good to invest in a sharp-looking passport holder with room to keep some cash, credit cards, and a few documents.
15. Oil massage and bath to hydrate skin
You have arrived at your destination and are in your spectacular hotel room, but your skin feels like sandpaper!! Take that handy vial of almond or jojoba oil from your amenity bag and give yourself a full body massage. Wash off with a warm shower. If you have an Ayurveda Spa in your hotel, lucky you! Treat yourself to an oil Abhyangam massage to help your skin get back to normal.
Expert Tip: If you do not have any oil on you, hotel kitchens are usually very kind in bringing in some coconut or olive oil.
16. Use the airport Lounge and Nap Rooms
Never shy away from paying for lounge access or catching a quick snooze in a nap room especially if you are traveling the longest haul flights like from SF to India via Dubai or Singapore. I love the privacy of airport lounges, fresh food, showers, and a quick shut-eye to refresh me so that when I get to my destination I am ready to meet clients and head for dinner with family.
Expert tip: Visit the airport website and look up the rates, budget for these extra expenses so you feel confident about taking good care of yourself.
17. Look for Yoga or Prayer Room
I love the hushed quietness of a Yoga room or a prayer room. I will go sit in any such rooms that may be available. I will either meditate or stretch my body and let the blood flow return to my cramped legs and back. I do this before I board when I am at a stopover and once I get to my destination, either in my hotel room, temple close by, or the gym room for Yoga.
Expert Tip: Use your scarf as a prop for stretching and hip opening in Yoga rooms. If at a Prayer room, be respectful of other patrons and don't point feet to any holy books or idols.
18. Try out the local cuisine
Half the joy of traveling through Asia and the Middle East is the incredible local cuisine. My special favorites are Hong Kong, Tokyo, and Singapore. The joys of sipping on a condensed milk tea, eating Kaya toast, and tucking in some fresh dumplings truly make international travel so much fun.
Expert Tip: If you have food sensitivity bring your own food. After several nuke sessions in the microwave, airplane food is pretty much dead. I like to pack fruit and healthy homemade cakes, the buttery sweetness is a perfect antidote for heightened anxiety inducing Vata energy.
19. Mask, sanitizer, wipes, thermometer, check!
These are the essentials of travel these days. Download the apps and portals your local government wants you to register at and keep your hands squeaky clean. Keep several face masks in every piece of luggage in a pocket you can reach. Wear sunglasses or a face shield if you are concerned. I would also suggest carrying a concealer stick. During visual inspections, if you are breaking out in hives due to a food allergy, you are bound to draw undue attention and may be asked to step aside for further investigation. Cover up and get home safe. Wipe down your seat and your armrests, tray table, and headrest.
Expert Tip: Pack some natural sandalwood powder to use in the armpits and dust as a light powder. If you get stress headaches make a paste with water and apply it on the forehead.
20. Do your clothes breath?
Nothing beats the comfort of 100% cotton, silk, or wool. These fabrics are eco-friendly, do not pollute the planet as much, and are usually expensive because they are made to last. The supply chain for natural clothing involves people who are better paid than manufacturers of cheap throw away plastic-based fashion. I love to wear my cotton leggings, a leather jacket, light wool scarf, and a long-sleeved t-shirt or flannel shirt. If you are looking for fabric blends, do not go below 60% cotton.
Expert Tip: Shop local at the boutiques at the airports for high-quality clothes that support local designers and artisans.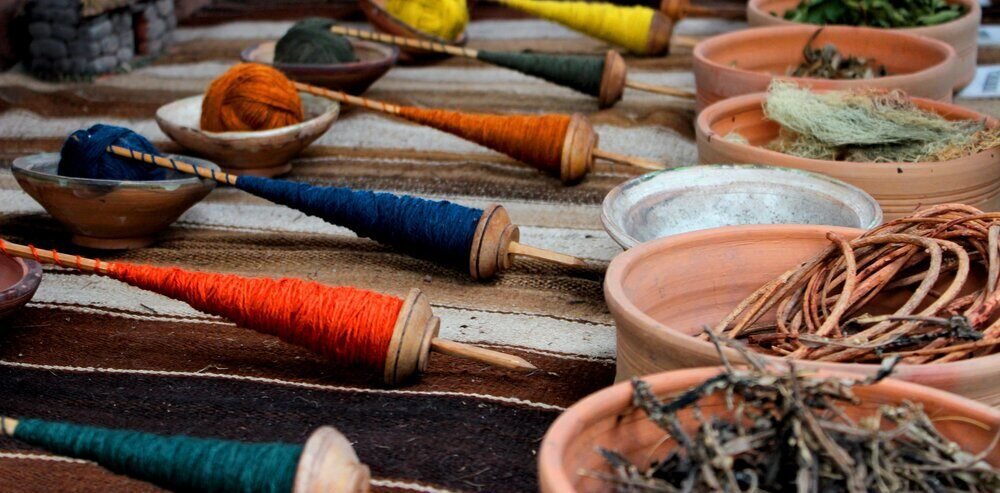 21. When Vata rises, bring in Kapha to balance
Traveling and crossing time zones naturally increases the Vata energy of the body. This has an effect on the dryness of the skin, the eyes, nasal passages, etc. The entire body is usually feeling challenged. The canned circulating air in the airplane only makes matters worse. Pack a small bottle of organic Ghee to smear inside the nostrils and to eat after dinner. Also, take a stick of herbal Triphala kajal to keep the eyes hydrated. This will help keep the mucosal lining of the nasal passages and eyes protected.
Expert Tip: If the Ghee freezes, get a cup of hot water from your air steward's pantry.
22. Make an Ayurvedic Gatorade
If you get super dehydrated like me or are an extreme Vata Body Type then this tip is for you. Mix 4-5 teaspoons of Misri sugar or jaggery with 1 teaspoon of Himalayan salt and 1/2 teaspoon of Aniseed powder. Add a pinch of this to warm water. Do not drink cold water on a flight, always ask for warm water.
Expert Tip: Pack the powder in a small steel container, plastic baggies can look very suspicious. I have personally seen travelers being frisked for bringing powdered sugar or milk powder.
In Conclusion:
A long haul flight does not have to be a dreaded travel experience, in spite of the dryness, recycled air, compromised immunity, upset fellow passengers, and awful in-flight food and entertainment.
I have had deep soul conversations, met some incredible people, laughed with strangers, and even danced to African music , on the way to India.
No matter what you do or do not, please do not touch your face, let alone pick your nose. And smile! You could just make someone's day.