Elephants at Periyar Wildlife Sanctuary.
A trip to Kerala for an Ayurveda Panchakarma is one of the best things anyone can gift themselves.
Kerala is crawling with Ayurveda and Yoga retreats.
No one will blame if you make any of these mistakes because many things about an Ayurvedic Panchakarma treatment is counter-intuitive.
1. Going by the Olive leaf/ Green leaf certification.
This certification awarded by the Kerala Government checks the basics and then divides Ayurveda service providers into two categories based on the infrastructure of the property.
A Green leaf means infrastructure is of five star facilities. An Olive leaf is given to an establishment with 3-star amenities.
If you are choosing between two Ayurveda retreat properties which look kind of similar, don't choose the Green leaf over the Olive leaf and pay several $$ more, unless you wanted a luxurious stay experience.
The physicians, therapists and equipment at both properties are more or less the same.
Opting for a green leaf does not automatically ensure a clinical grade Ayurveda experience.
A lovely home style accommodation at Cherai Beach.
2. Not making up your mind about Clinical or leisure experience.
Why so, you wonder? Why can't I have a clinical grade Ayurveda treatment and stay at a fancy place with the legendary Kerala seafood on the menu, the bar close at hand and a nice pool to splash around in.
Here is why.
Ayurveda works on the body, the mind and the spirit.
An Ayurvedic treatment is time to rest all three and go inward, face what's coming up, process through it , restore the energy channels, get a new lease on life, literally.
At a Panchakarma retreat, easily digestible vegetarian food, gentle yoga, restrictions on getting wet, swimming, avoiding sex, and putting away digital distractions are all important part of a thorough healing.
Any place worth its salt, that offers medical grade Ayurveda will make you feel like you signed up for an internship at a Benedictine monastery.
Some places of repute even make patrons observe complete silence!

3. Not having a Skype Consultation
Most facilities that care for your health will offer a free initial Skype consultation. If you have serious or chronic health concerns, please insist on this.
Facilities that do not offer some sort of up front remote consult are not in business to serve you or may have so much volume of patients, that they may not be able to give you attention, when you arrive.
Some Ayurvedic treatments may not be suitable for you due to medical history, present health condition and age.
It will be sad to check in to a facility and then discover that your expectations were not met. Don't solely rely on the email consult done by over-crowded renowned establishments.
Ayurveda is a highly personalized treatment modality and physicians must have time to do a thorough check up. It is always in your interest to go to someone who offers a more personal experience.
Abhyangam at an award winning Ayurveda Spa, have you tried this warm unctuous massage?
4. Getting thrilled by the a la carte Ayurveda experience
Guilty of falling for this one. I went in for a full body Ayurveda massage right off an 18-hour flight. I hurt my body. It took weeks to recover from the misalignment and swelling.
If I was at a facility under a Physician's care, she would have taken one look at my slightly swollen legs and refused the massage.
Any place that lets do what you want to do is not doing you any favors. If you are undergoing medical grade Ayurveda treatment, the services you may pick and chose from an a la carte menu may interfere with your treatment.
5. Forgetting to read between the lines
If you were planning to check into a picturesque hotel by the backwaters with the added benefit of a few Ayurveda treatments and the reviews mention intense healing, periods of silence, therapeutic vomiting, run!
Gorgeous upscale Ayurveda hospital, how about an enema here?
In Kerala, some medical grade establishments are in some of the most beautiful locations on the planet.
If you were planning to get that arthritic knee fixed for good and the menu features non-vegetarian food, it will kill you to watch others crunching on fried fish while your only meal was red rice gruel with a dash of salt.
Please search again for a place where you can at least be satisfied that everyone else is suffering as much as you are.
6. Going solely by what your travel company decides
Many have been led down the garden path by travel companies who do not understand or are not aware of the difference between leisure and therapy.
A therapeutic Ayurveda session is certain to ruin any leisure traveler's vacation.
Please ask lots of questions, email the establishment directly, check what kind of food is served, who is their average customer.
Once you check-in do not be talked into a clinical grade session no matter how much the Physician insists it will do you good. No doubt it will do good, but perhaps this is your first vacation in 5 years and crying over childhood trauma and battling your guilt issues can wait for another time.
Kerala is a paradise and there are plenty of other ways to recharge your spirit.
Medical grade Ayurveda is chosen by those who are facing issues western medicine cannot cure, like immunity disorders, insomnia, hormonal imbalance, fertility issues and nervous degenerative conditions.
These clients want to avoid surgery or reduce dependence on medications and are somewhat aware of what happens when the medicines start working.
It is a tragedy to check in to a retreat after spending several thousand dollars and realize the treatment is a watered down version to offer a taste of Ayurveda and not a clinical grade Panchakarma.
Kerala is blessed with lush greenery all year round.
7. Going for the cheaper alternative
You have a few quotes in the range of a few thousand $$ for a 14 day and stay and whoa! A new facility comes up and says everything and a few free massages, all yours for half that price.
Did I just win the jackpot, you think!
What a deal, you think!
No. No. No. Walk away.
Stay with those who are charging a reasonable price.
Kerala is as expensive as any western country and the massages and treatments involve copious amounts of medications, oils with herbal extracts, and ghee (clarified butter).
Some of these preparations have over 25 different herbs and are cooked over several hours. Well-established Ayurveda houses have their own certified drug manufacturing units and keep costs down that way.
They make sure high standards of hygiene are maintained for the entire duration of your Panchakarma treatment. Your oils, boluses, and herbal massage powders are used only on you. This is a very important point. All this adds to the final cost of the Panchakarma therapy.
8. BOOKING SEVERAL PANCHAKARMA RETREATS IN DIFFERENT COUNTRIES
An Ayurveda Panchakarma is a medical treatment, it only feels like a resort holiday.
Facilities are set up in breathtaking surroundings, often lush with palm trees, and hammocks by the beach or the forest.
If you are going for treatment for a chronic issue that has been bothering you for several years, it is best to spend 28 days plus at ONE retreat where you know you are getting the best therapy grade experience that ensures the best outcomes.
It takes at least 14 days for the medicines to penetrate all the layers of the tissues and reach the final reproductive layers and then bind with the toxins embedded deep in the marrows and nerves. Once the medicines bind then they make a similar time step by step path back to the gut and colon to be purged through enemas and Vamana, therapeutic vomiting. Toxins are also pulled out of the skin through Swedana sweating.
Therapies are structured to progressively build on each other.
It is understandable if you divvied up your yearly travel budget and vacation days to do two or three short Panchakarma stays in India, Bali, and Sri Lanka.
It will be a beautiful enriching exploration of the world of Ayurveda, but it will not solve your health issues.
9. TREATING YOUR PHYSICIAN LIKE A PSYCHOTHERAPIST
A clinical-grade Panchakarma will initiate deep-seated healing of the emotions. On many difficult days, you will benefit from having a consultation with your counselor or therapist either online or in person, if possible.
Your Ayurveda physician is trained in his art and science of healing and may definitely be a kind, compassionate human, however, he or she may not be equipped to offer you guidance that is culturally sensitive and appropriate for your unique needs.
Some clients are tempted to overstep professional boundaries, after all the physician is a person who has shown great care towards you for a few weeks, it is natural to want to be more than a physician and patient.
Some are disappointed when the physician cannot respond or cannot advise in a manner that a licensed therapist from a Western country would do. They see it as a lack of professionalism.
It will be always in the interest of all involved to maintain warm professional distance and share only what you normally share with a general practitioner, your daily updates on your symptoms, your emotional state and what you wish to see improve.
Panchakarma healing is time to focus on the self and not be snagged and dragged by unnecessary emotional upheavals and entanglements.
It will benefit to have some sessions booked with your personal licensed marriage and family therapist before you travel.
10. good ayurveda treatment is the same everywhere
Panchakarma comes in many flavors and takes on the character of the physician who is guiding the treatment.
Some physicians take a lot of precautions and are gentle in their explorations. Some are bold and may mix and match therapies and take risks. Some are moderate and focus thoroughly on preparatory therapies and others focus on finishing off strong.
Some push you beyond your comfort level and some back off as soon as you complain and reduce the intensity of therapies.
Just like a dish of pasta cooked by five different Michelin star chefs will come out tasting different, same way Panchakarma experiences will differ from lineage to lineage, from resort to resort and country to country.
The physicians also vary in expertise in different treatments for ailments, some are proficient in healing inflammatory conditions, some gynecological issues and some are experts in nerve degeneration.
It helps to know what a facility is reputed at healing.
A royal welcome at a very special Spa on wheels.
11. not getting blood work & health reports done
Almost all Ayurveda physicians are trained in medical school and use health data and reports to establish your current state of health.
If vital information like ultrasound and levels of cholesterol or hormones is not available, your physician will send you to the nearest health center or may have someone come and draw blood.
These facilities often are in a rural Indian hospital setting close by, where the high levels of hygiene practiced in western nations may not be present.
You will also be paying reasonable rates for these services out of your pocket.
(Large privately run hospitals in the hearts of Indian cities are well equipped and meet the highest standards of care)
12. Going to the Ayurveda center at your ashram or Ayurveda school
The best Ayurveda physicians work at top Ayurveda retreats that pay them generous salaries or are owners of well-run retreats with little time for anything but care for their patients.
Often such physicians begin their journeys and gain tremendous experience practicing at charitable hospitals where they heal a large number of patients.
Many successful physicians I know continue to see underprivileged patients because they want to serve humanity and they also want to keep their healing skills sharp.
Western clients at the retreats are usually similar to each other, coming from first-world nations with predictable health concerns.
"It takes a thousand patients before you even begin to understand how to check the pulse"
-Dr.Vignesh Devraj Ramanathan
This is true for any profession, the best go where they are compensated well, and when they have established themselves, they dedicate a portion of their time for pro-bono work and mentoring.
At ashrams often clinical services are outsourced to newly minted physicians, as they cannot afford to pay competitive salaries.
At Western Ayurveda schools, the head, if at all an Ayurveda physician, is usually managing the business of running the school. Junior clinical staff mostly sees to the health of the students.
The student is a potential repeat customer who may refer friends and family or shout out on social media.
Western Ayurveda schools have Panchakarma treatment centers where students are charged a discounted tariff to be treated, are sold on new workshops and products to support their education.
( Compare this to government-recognized Ayurveda colleges in India, where students are not customers. Medical students undergo treatments for free as part of their learning experience.)
If you were at a cooking school, you wouldn't be charged for the gourmet meals your classmates make. At a hair dressing or make-up school, you will get work done for free as your classmates' practice on you. This is because it is understood your work is sub-par and is not yet ready for the market.
At Ayurveda schools in the US, the students are the marketing funnel!
At an Ayurveda retreat, you pay a premium to consult with the best and be under their care 24*7. They are fully invested in earning your goodwill and loyalty through referrals, they have nothing more to sell to you once you pay for the all-inclusive treatment package price.
If caring for your health is your goal, then it pays to go to the best facility you can budget for.
AYURVEDA Panchakarma IN KERALA
To an outsider, Kerala, home of Ayurveda, has a bewildering choice of Ayurveda properties to chose from at all price points.
From INR 2 for a consultation at a government-subsidized Ayurveda hospital to the establishments where world royalty stay for their treatments, the choices are unlimited.
If you are hoping for guidance, please reach out to me.
All the properties in my portfolio are especially selected for meeting the highest standards of care towards their patients, I know of them due to my personal connections within the Ayurveda community of Kerala and my knowledge of Ayurveda.
All privately run hospitals/retreats/resorts run by qualified physicians who offer certified therapy grade Panchakarma definitely charge fair prices and I am confident I will have some fantastic Ayurveda properties to share that meet your budget and health goals.
WHAT YOU GET
I spend considerable time understanding your health needs, narrowing down a perfect Panchakarma facility that meets all your criteria, I pass on your health information, speak with the physicians personally and arrange for a 30-minute free online video consult.
These are men and women who work 12 plus hours a day caring for patients. (This is currently not available through anyone else, if you find a physician who does this, please let me know, I would love to work with them.)
I believe my service is of great value to someone who is looking at investing several thousand dollars, weeks of hard-earned personal time, and complete trust that their health challenges will be best addressed by a competent team.
During your stay, I am available to be of help and troubleshoot if necessary, anytime you require me.
My services are totally FREE to you (my client), as a consultant I am only invested in meeting your need.
Please reach out to me through this inquiry form so I have all your information to assist you.
Say hello on Instagram
Lokah Samastha Sukhino Bhavanthu.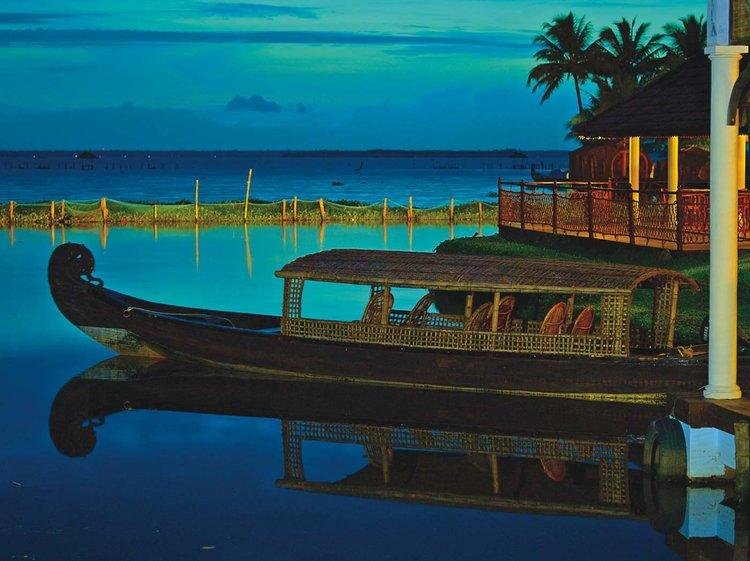 The backwaters of Kerala, you might run into world royalty here.